RF Fractional Microneedling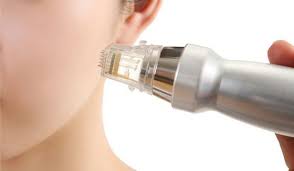 RF Fractional Microneedling
Latest treatment now to stimulate, firm, plump , and repair itself using a combination of fractional radio frequency and dermal stamping to reduce the appearance of wrinkles, lines, scars, and pores. The procedure involves penetration of insulated microneedles into the dermis to deliver high-tensioned radio frequency pulse into the targeted tissue. This results in the body's own production of elastin and collagen fibers , making the skin firmer and healthier. The combination of microneedles and radio frequency leads to more substantial improvement in skin quality and texture. This combination also allows the treatment to treat concerns such as skin tightening and brightening. The treatment is very effective on deep scars, stretch marks, and fine lines. It can treat face and body as well.
RF Fractional Microneedling is a unique treatment and its customized to deliver the suitable energy to the targeted area of concern. To achieve the best results a series of treatments are recommended approximately four weeks apart. The procedure takes 15 -20 minutes and results appear gradually over the next several weeks.The procedure has a little discomfort. Most common side effects are redness and swelling for a few days.
Benefits of Treatment
Minimally invasive
Shorter procedure time
Shorter down time
Less risks of post-inflammatory hyperpigmentation and scaring
Book Now
Your Order has been sent successfully. We will contact you as soon as possible.
Error: Please try again